Michelangeo eBooks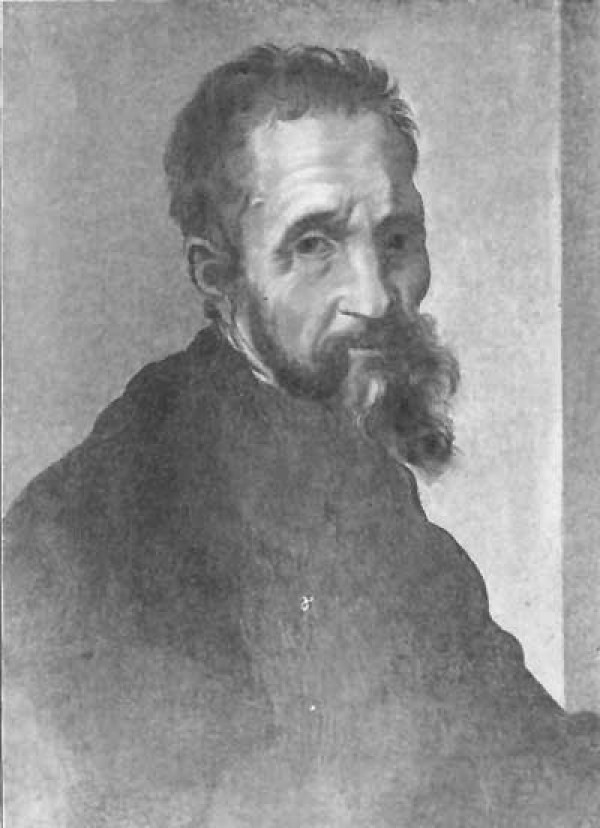 3rd Jan 2011
Posted in: Michelangeo eBooks
Comments Off

on Michelangelo – A Collection Of 15 Pictures And A Portrait Of The Master INTRODUCTION
Michelangelo – A Collection Of 15 Pictures And A Portrait Of The Master INTRODUCTION
The Project Gutenberg EBook of Michelangelo, by Estelle M. Hurll

This eBook is for the use of anyone anywhere at no cost and with
almost no restrictions whatsoever. You may copy it, give it away or
re-use it under the terms of the Project Gutenberg License included
with this eBook or online at www.gutenberg.net Title: Michelangelo
A Collection Of Fifteen Pictures And A Portrait Of The
Master, With Introduction And Interpretation Author: Estelle M. Hurll Release Date: December 3, 2005 [EBook #17212] Language: English Character set encoding: UTF-8

*** START OF THIS PROJECT GUTENBERG EBOOK MICHELANGELO ***

Produced by Suzanne Lybarger, Sankar Viswanathan, and the
Online Distributed Proofreading Team at http://www.pgdp.net
Transcriber's Note:
The images in this e book of the sculptures and paintings are from the original book. However Sistine Chapel in Rome underwent extensive restoration and was inaugurated in 1999, after 20 years of restoration work. The restored frescos and paintings are presented as modern color images with links.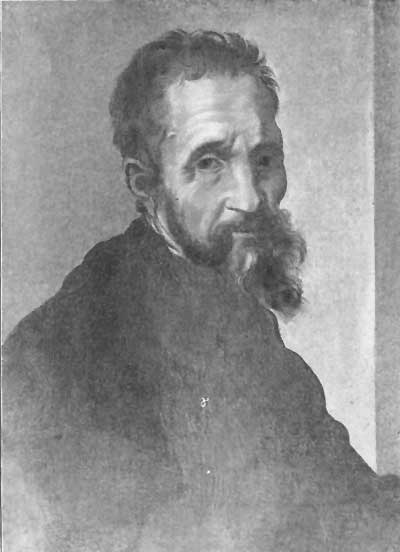 The Riverside Art Series
MICHELANGELO
A COLLECTION OF FIFTEEN PICTURES
AND A PORTRAIT OF THE MASTER
WITH INTRODUCTION AND
INTERPRETATION
BY
ESTELLE M. HURLL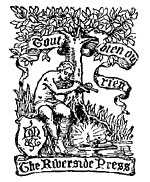 BOSTON AND NEW YORK
HOUGHTON, MIFFLIN AND COMPANY
The Riverside Press, Cambridge
1900
COPYRIGHT, 1900, BY HOUGHTON, MIFFLIN & CO.
---
PREFACE
In making a collection of prints from the works of Michelangelo, it is impossible to secure any wide variety, either in subject or method of treatment. We are dealing here with a master whose import is always serious, and whose artistic individuality is strongly impressed on all his works, either in sculpture or painting. Our selections represent his best work in both arts. These are arranged, not in chronological order, but in a way which will lead the student from the subjects most familiar and easily understood to those which are more abstract and difficult.
ESTELLE M. HURLL.
New Bedford, Mass.
January, 1900.
---
CONTENTS AND LIST OF PICTURES
Portrait of Michelangelo. Attributed to Bugiardini.
Frontispiece.
Note: All the pictures with the exception of the Cupid were made from photographs by Fratelli Alinari. The Cupid was photographed from the statue in the South Kensington Museum, London.
---
INTRODUCTION
---
I. ON MICHELANGELO'S CHARACTER AS AN ARTIST.
Michelangelo's place in the world of art is altogether unique. His supremacy is acknowledged by all, but is understood by a few only. In the presence of his works none can stand unimpressed, yet few dare to claim any intimate knowledge of his art. The quality so vividly described in the Italian word terribilità is his predominant trait. He is one to awe rather than to attract, to overwhelm rather than to delight. The spectator must needs exclaim with humility, "Such knowledge is too wonderful for me; it is high, I cannot attain unto it." Yet while Michelangelo can never be a popular artist in the ordinary sense of the word, the powerful influence which he exercises seems constantly increasing. Year by year there are more who, drawn by the strange fascination of his genius, seek to read the meaning of his art.
His subjects are all profoundly serious in intention. Life was no holiday to this strenuous spirit; it was a stern conflict with the powers of darkness in which such heroes as David and Moses were needed. Like the old Hebrew prophets, the artist poured out his soul in a vehement protest against evil, and a stirring call to righteousness.
Considered both as a sculptor and a painter, Michelangelo's one vehicle of expression was the human body. His works are "form-poems," through which he uttered his message to mankind. As he writes in one of his own sonnets,
"Nor hath God deigned to show himself elsewhere
More clearly than in human forms sublime."
In his art, says the critic Symonds, "a well-shaped hand, or throat, or head, a neck superbly poised on an athletic chest, the sway of the trunk above the hips, the starting of the muscles on the flank, the tendons of the ankle, the outline of the shoulder when the arm is raised, the backward bending of the loins, the curves of a woman's breast, the contours of a body careless in repose or strained for action, were all words pregnant with profoundest meaning, whereby fit utterance might be given to thoughts that raise man near to God."
Learning his first lessons in art of the Greeks, he soon possessed himself of the great principles of classic sculpture. Then he boldly struck out his own path; his was a spirit to lead, not to follow. With the subtle Greek sense of line and form, he united an entirely new motif. In contrast to the ideal of repose which was the leading canon of the Greeks, his chosen ideal was one of action. Moreover, he invariably fixed upon some decisive moment in the action he had to represent, a moment which suggests both the one preceding and the one following, and which gives us the whole story in epitome. Thus in the David we see preparation, aim, and action. It was a far cry from the elegant calm of the Greek god to the restless energy of this rugged youth.
Even with seated figures he followed the same principle. Moses and the Duke Giuliano are ready to rise to their feet if need be. In his frescoes we again find the same motif,—Adam rising to his feet in obedience to the Creator's summons, and Christ the Judge sweeping asunder the multitudes.
In his love of action and his passion for the human form lay the elements of his art most easily lending themselves to exaggeration. That the master did indeed permit himself to be carried beyond due limits in these matters is seen by comparing the grandeur of the Sistine ceiling with the mannerisms of the Last Judgment. The interval between was "the time of his best technical and spiritual creativeness," when he produced the statues of the Sacristy of S. Lorenzo.
It was characteristic of Michelangelo's impetuous nature to spend his enthusiasm upon the early stages of his work, and leave it unfinished. This unfinished effect of many of his marbles seems to bring us in closer touch with his methods as a sculptor. Nor is a rough surface here and there inharmonious with the rugged character of his conceptions. Moreover, as a critic[1] has pointed out, the polished and rough portions enhance each other, giving a variety in the light and shadow which is pictorial in effect.
[1]
See notes on the Life of Michelangelo Buonarotti in the Blashfield-Hopkins edition of Vasari.
To a man of Michelangelo's austere temperament, intensely masculine in his predilections, the beauty of womanhood was not fully revealed. His sibyls can scarcely be counted as women; they belong to a world of their own, neither human nor divine. It was only in his few Madonnas that we can trace his feminine ideal, an ideal noble and dignified, rather than beautiful. The Madonna of the bas-relief is proud rather than tender, the Virgin of the Pietà is grand rather than lovely. These were works of his youth. Later in life, when he had known the blessing of a good woman's friendship, he developed a new ideal in the gentle and delicate womanhood of the Virgin of the Last Judgment.
Michelangelo has been compared to two great masters of dissimilar arts, Milton and Beethoven. There are striking points of similarity in the men themselves, in stern uprightness of character, in scorn of the low and trivial, in lofty idealism. The art of all three is too far above the common level to be popular; it requires too much thinking to attract the superficial. In poetry, in music, and in sculpture, all three utter the profoundest truths of human experience, expressed in grand and solemn harmonies.
---
II. ON BOOKS OF REFERENCE.
The original materials for the study of Michelangelo's life and work are the two biographies by his contemporaries, Vasari and Condivi. Vasari's was the first of these (1550), and like the other portions of his "Lives of the Painters" contained many inaccuracies. It was to correct these that Condivi published his little book a few years later. This rival effort aroused Vasari's wrath, and after Michelangelo's death he issued an enlarged edition of his own book, unscrupulously incorporating all that was valuable in Condivi's work, and adding thereto many reminiscences of the master's life. The fame of Vasari's monumental work caused Condivi's little book to be entirely forgotten for long years, and it has been one of the tasks of modern scholarship to restore it to its true place. Even now, however, there is no available form of Condivi's biography for American readers, though Vasari's "Lives" in Mrs. Foster's translation is found in most libraries. The latest edition of Vasari, published in 1897, contains annotations by Mr. and Mrs. E.H. Blashfield, and A.A. Hopkins, which correct all the statements in the light of recent authorities.
Far more valuable even than the early biographies is the mass of existing documents of the Buonarotti family, including contracts, letters, poems, and memoranda, and containing data for a full and exact biography of the master. Unfortunately, however, this great storehouse of material has been for all these centuries a sealed treasure, given up only little by little, to successive generations of scholars. When Hermann Grimm wrote his celebrated "Life of Michael Angelo" (in 1860), the only original material accessible to him was the collection of letters in the British Museum. His volumes are still read with interest and profit, though it is to be regretted that they should be reprinted without any editorial comments to connect formerly received opinions with later conclusions. John S. Harford's "Life of Michael Angelo Buonarotti" was published at about the same time as Grimm's work, that is, in 1857. It was in two volumes, and contained translations of many of Michelangelo's poems, as well as material about Savonarola, Vittoria Colonna, and Raphael. The work is found in the older libraries, and is well worth studying, as the latter portion is still valuable for all that refers to the architecture of St. Peter's.
Signor Gotti's "Vita," in 1875, was the first to profit to any considerable degree by documentary researches. The conclusions of this book are best known to the English-reading public through Charles Heath Wilson's "Life and Works of Michelangelo Buonarotti" (1876 and 1881), consisting of compilations from Gotti, to which are added original investigations of the Sistine frescoes, which are very valuable.
More privileged than any of his predecessors was John Addington Symonds, who, by special favor of the Italian government, was allowed to examine the Buonarotti collection in Florence, so long debarred to others. His "Life of Michelangelo Buonarotti" is therefore unique in being, as the sub-title announces, "based on studies in the archives of the Buonarotti family at Florence." It was published in 1893 in two large, finely illustrated volumes, and is taken as the latest authoritative word on the subject, a word singularly independent of others' conclusions, and influenced by an artistic and literary nature of rare sensitiveness.
To those who wish briefer notices of Michelangelo's life and work than any of these full biographies are recommended the chapters on Michelangelo in Kugler's "Handbook of the Italian Schools," in Mrs. Jameson's "Memoirs of the Italian Painters," in Frank Preston Stearns's "Midsummer of Italian Art," in Mrs. Oliphant's "Makers of Florence," and in Symonds's volume on "Fine Arts" in the series "Renaissance in Italy."
To understand more fully the character of the man Michelangelo, the student should read his sonnets. There is a complete collection translated by J.A. Symonds, while both Wordsworth and Longfellow have translated a few.
The life of Michelangelo has furnished material for two long poems by American writers,—Longfellow's drama, and the poem by Stuart Sterne. The former, which is annotated, is a well-balanced study of the great artist's career and ideals.
---
III. HISTORICAL DIRECTORY OF THE WORKS OF ART IN THIS COLLECTION.
Portrait frontispiece. An oil painting in The Hall of the Portraits of Old Masters, Uffizi Gallery, Florence. The authorship of the painting is not certainly known. Symonds says that "it may perhaps be ascribed with some show of probability to Bugiardini." Bugiardini was a friend of Michelangelo's youth and a fellow student in the gardens of the Medici. That later in life he painted a portrait of his distinguished friend we know from Vasari. Vasari tells us that the portrait showed a peculiarity in the right eye, and this fact lends probability to the identification of the Uffizi portrait with Bugiardini's work.
1. Madonna and Child, an unfinished bas-relief medallion, made, according to Vasari, during Michelangelo's residence in Florence in 1501-1505. It was made for Bartolommeo Pitti. It is now in the National Museum (Bargello), Florence.
2. David, a statue made from a block of Carrara marble which had been spoiled by an unskilled sculptor. After it had lain useless in Florence for a century, a sculptor applied to the board of works of the cathedral for permission to use it. The board consulted Michelangelo and offered him the marble. He undertook to cut from it a single figure which would exactly use the block. The contract to make the statue of David was drawn up in 1501, and the statue was completed in 1504. Forty men were employed four days to remove it from the cathedral works to the Piazza della Signoria, where it was placed on the platform of the palace (Palazzo Vecchio), remaining in the open air more than three centuries. The weather was beginning to injure it, and it was removed in 1873 to the Academy of Fine Arts in Florence, where it now stands.
3. Cupid. Symonds gives the following account of the statue in the "Life of Michelangelo," published in 1893: "Discovered some forty years ago, hidden away in the cellars of the Gualfonda (Ruccellai) Gardens, Florence, by Professor Milanesi and the famous Florentine sculptor, Santarelli. On a cursory examination they both declared it to be a genuine Michelangelo. The left arm was broken, the right hand damaged, and the hair had never received the sculptor's final touches. Santarelli restored the arm, and the Cupid passed by purchase into the possession of the English nation." It is now in the Museum of South Kensington.
4. Moses, a statue on the tomb commemorative of Julius II.,[2] in the church of S. Pietro in Vincoli, Rome. At the beginning of Michelangelo's connection with Julius II., he made plans for a magnificent monumental tomb for this pope, to be ornamented with more than forty statues and to be of great size (34-1/2 × 23 feet). The fickleness of the Pope caused a continual series of disappointments in the progress of the work, which was finally abandoned for the frescoes of the Sistine Chapel. After the death of the Pope, his executors were even less zealous for the completion of the tomb. A succession of contracts were made and broken, each one reducing the size and importance of the design. The artist was continually in demand for other work. Finally, in 1542, to leave him free for the services of the Pope, the completion of the tomb was put into other hands. The statue of Moses, with those of Rachel and Leah, is all that Michelangelo contributed to a work which had occupied his thoughts for nearly forty years. The setting of the Moses is in every way exceedingly unfavorable to a proper appreciation of the work.
[2]
The Pope, Julius II., is buried at St. Peter's.
5. Holy Family, an oil painting belonging to the Florentine period 1501-1505, and painted for Angelo Doni. It is now in the Uffizi Gallery, Florence.
6. The Pietà, a marble group executed by the order of the Cardinal di San Dionigi according to a contract drawn up August 28, 1498. It was placed in the old basilica of St. Peter's (Rome), in a chapel dedicated to Our Lady of the Fever (Madonna della Febbre). In the present church of St. Peter's it occupies a side chapel, to which it gives its name, where it is placed so high that it is impossible to see it well, and where its beauty is disfigured by the bronze cherubs fastened above, holding a crown over the Virgin's head.
7. Christ Triumphant, a marble statue ordered by Bernardo Cencio (a canon of St. Peter's), Mario Scappuci, and Metello Varj dei Porcari for the church of S. Maria sopra Minerva, Rome, where it still stands. The deed was executed in 1514, specifying that the statue should be of marble, "life sized, naked, erect, with a cross in his arms." It appears from Michelangelo's correspondence that the work was finished by apprentices, first by Pietro Urbano, who did so badly that he was discharged and replaced by Federigo Frizzi. It was completed in 1521, when Michelangelo offered to make a new statue if it was not satisfactory. Varj, however, declared that the sculptor had "already made what could not be surpassed and was incomparable," so the statue was placed in position.
8-12. The Creation of Man, Jeremiah, Daniel, The Delphic Sibyl, the Cumæan Sibyl, frescoes on the ceiling of the Sistine Chapel, Rome, begun in 1508 at the order of the Pope Julius II. Michelangelo undertook the work reluctantly, as sculpture was his chosen art. The architect Bramante first made a scaffolding for the work, so clumsily constructed that Michelangelo replaced it by one of his own invention. Several Florentine painters were engaged as assistants, but, failing to satisfy the painter, returned. Julius II. often visited the chapel during the work, climbing to the scaffolding to see how it progressed. Impatient to see it, he gave orders to have the ceiling uncovered when but half finished. The first uncovering took place November 1, 1509. The work was completed October, 1512.
13-14. Lorenzo de' Medici, Tomb of Giuliano de' Medici, marble tombs first projected in 1520 or 1521, during the pontificate of Leo X. (formerly Giovanni de' Medici). The order was renewed by Clement VII., another Medici pope, in 1523. The work was carried on intermittently a number of years during which occurred the revolution, siege, and recapture of Florence. From 1530-1533 Michelangelo carried them to the point of completion in which they are now seen: they were never fully finished. The identity of the tombs was long a matter of doubt. Though Vasari had called the helmeted figure Lorenzo and the other Giuliano, there were critics, notably Grimm, who took the opposite view. In 1875 the sarcophagus of the helmeted figure was opened and evidence found proving it to be unquestionably the tomb of Lorenzo, as Vasari had said. Both tombs remain as originally placed in the new sacristy of the church of San Lorenzo, Florence.
15. Central Figures of the Last Judgment, a fresco painting on the wall of the Sistine Chapel, executed by the order of the Pope Paul III., who in 1535 appointed Michelangelo chief architect, sculptor, and painter at the Vatican. The work occupied several years and was completed in 1541.
---
IV. COLLATERAL READINGS FROM LITERATURE.
IN CONNECTION WITH THE SEVERAL WORKS HERE REPRESENTED.
The Madonna and Child and the Holy Family:—
The Latin hymn, Mater Speciosa, by Jacobus de Benedictis, translated by Dr. Neale.
David:—
Arthur Penrhyn Stanley. History of the Jewish Church, Part II. Lectures XXII.-XXV.: David.
Robert Browning. Poem, Saul.
Psalm Twenty-three.
Cupid:—
Richard Crashaw. Poem, Cupid's Cryer; out of the Greek.
Edmund Gosse. Poem, Cupido Crucifixus.
Moses:—
Arthur Penrhyn Stanley. History of the Jewish Church, Part I, Lectures V.-VIII.: Moses.
Mrs. A.D.T. Whitney. The Open Mystery: A Reading of the Mosaic Story, Part IV.
The Song of Moses: Deuteronomy, chapter xxxii.
The Prayer of Moses: Psalm Ninety.
Cecil Frances Alexander. Poem, The Burial of Moses.
Sonnet on the statue of Moses by Giovanni Battista Felice Zappi, translated by J.A. Symonds (in Life of Michelangelo Buonarotti).
The Pietà:—
Latin hymn, Stabat Mater, by Jacobus de Benedictis, translated by Lord Lindsay, by General Dix or by Dr. Coles.
Christ Triumphant:—
Henryk Sienkiewicz. Quo Vadis, chapter lxix.
Frescoes of the Sistine Chapel, general impressions:—
Symonds. Renaissance in Italy, volume on the Fine Arts, chapter viii.: Life of Michael Angelo.
Taine. Italy, book iii., chapter ix.: Michael Angelo.
Andersen. The Improvisatore, chapter xii.: Allegri's Miserere, in the Sistine Chapel.
The Creation of Man:—
Milton. Paradise Lost, book VIII., lines 500-528.
Jeremiah:—
Lucy Larcom. Poem, The Weeping Prophet.
Daniel:—
Sir Edwin Arnold. Poem, The Feast of Belshazzar.
The Delphic Sibyl:—
Lord Houghton. Delphi, a poem included in Longfellow's collection of Poems of Places, volume on Greece.
The Cumæan Sibyl:—
Virgil. Æneid, sixth book, translated by C.P. Cranch or by John Conington.
The Medicean Tombs, general impressions:—
Symonds. The Renaissance in Italy, volume on the Fine Arts, chapter viii.: Life of Michael Angelo.
Taine. Italy, book iii., chapter v.: The Florentine School of Art.
Mrs. Oliphant. The Makers of Florence, chapter xv.: Michael Angelo.
Rogers. Italy: poem on Florence.
Lorenzo de' Medici:—
Tomb of Giuliano de' Medici:—
Charles Algernon Swinburne. Poem, In San Lorenzo.
The Last Judgment:—
The Latin hymn, Dies Irae, by Thomas de Celano, translated by General John E. Dix.
Alexander Dumas. Les Trois Maitres: Description of Last Judgment, translated by Esther Singleton in the compilation Great Pictures described by Great Writers.
The portrait of Michelangelo:—
C.P. Cranch. Michael Angelo Buonarotti, a poem read at a celebration of the 400th anniversary of his birth, included in Longfellow's collection of Poems of Places, volume on Italy.
---
V. OUTLINE TABLE OF THE PRINCIPAL EVENTS IN MICHELANGELO'S LIFE.
(Based on Symonds' Life of Michelangelo Buonarotti, to which the accompanying notes on pages refer.)
1475. Born at Caprese, March 6 (p. 4).
1488. Apprenticed to Domenico and David Ghirlandajo, April 1 (p. 12).
1489-1492. Under the patronage of Lorenzo the Magnificent, in the Casa Medici (p. 23).
1494, 1495. In Bologna, work on the tomb of St. Dominick (pp. 47, 48).
1495. Return to Florence, the Sleeping Cupid (pp. 50-52).
1496-1498. In Rome:—
The Bacchus (p. 58).
The South Kensington Cupid (p. 62).
The Pietà (p. 69).
1500. A second visit to Rome (p. 80).
1501-1505. In Florence (p. 87).
1504. Statue of David (p. 96) taken from workshop, May 14;
arrived at Piazza Signoria, May 18;
set in place, June 8.
Commissioned in August to prepare cartoons for decoration of Hall in Palazzo Vecchio, on wall opposite to that assigned to Leonardo da Vinci (p. 119).
1505. Arrival in Rome to work under patronage of the Pope Julius II. (p. 126).
Preparations begun for work on tomb of Julius and trip to Carrara to select marbles (p. 129).
1506. His angry flight from Rome (p. 155).
Visit in Florence and completion of competitive cartoon (Battle of Pisa) for Palazzo Vecchio (p. 161).
Reconciliation with the Pope at Bologna, November (p. 186).
1506-1508. Residence in Bologna, and statue of Julius II. (pp. 187 and 195).
1508. Return to Florence, March (p. 197).
Thence to Rome by order of Julius II. (p. 198).
Frescoes of the Sistine Chapel begun (p. 206).
1509. First uncovering of the Sistine Chapel ceiling, showing frescoes in the central space (pp. 209, 211).
1512. Sistine frescoes completed, October (p. 217).
1513. Death of Michelangelo's patron, Julius II., Feb. 21.
New contract for tomb, dated May 6 (p. 302).
1514. Contract for life size marble statue of Christ. Date of deed, June 14 (p. 305).
1516. Reduced plan for tomb of Julius II. (p. 320).
Visit to Carrara to quarry marble.
Suspension of work on tomb to make façade of church of S. Lorenzo (Florence) for Pope Leo X. (p. 323).
1518. Contract for façade of S. Lorenzo, Jan. 19 (p. 328).
1518, 1519. To and from Florence and Carrara for marble (pp. 331, 339, 341, 342).
1520. Façade of S. Lorenzo abandoned (p. 349).
1521. Work begun on tombs in sacristy of S. Lorenzo (p. 357).
Statue of Christ finished (pp. 306, 359).
Death of Michelangelo's patron, Leo X., Dec. 1.
1523. Fresh beginning of project of the Medicean tombs in sacristy of S. Lorenzo (p. 372).
1524. Vasari's apprenticeship with Michelangelo (p. 389).
1525. Work in Florence on Medicean tombs (p. 391).
1526. Work begun on Laurentian Library (p. 397).
1527, 1528. Uneventful years in Florence (p. 404).
1529. His services on the fortifications of S. Miniato, to defend Florence against the Medici (pp. 409, 412).
Flight from Florence to Venice, Sept. 21 (p. 416).
1530. Capitulation of Florence (p. 435).
Michelangelo in hiding (p. 437).
Resumption of work on Medicean tombs (p. 438).
1530-1533. Work on Medicean tombs (p. 447).
1532. New contract for tomb of Julius II. (p. 455).
1534. Death of Clement VII.
1535. Appointed chief architect, sculptor, and painter at the Vatican by Pope Paul III., Sept. 1 (vol. ii. p. 40).
1536-1537. Work on the Last Judgment (vol. ii. p. 43).
1538-1547. Friendship with Vittoria Colonna (vol. ii. pp. 93, 117, 125).
1541. Last Judgment shown to the public, Christmas day (vol. ii. p. 58).
1542. Work assigned by Paul III. for frescoes in the Paulien Chapel (vol. ii. p. 69).
Michelangelo's last contract for tomb of Julius II. (vol. ii. pp. 40, 69, 73).
1544. Illness (vol. ii. pp. 183, 187).
1546. Michelangelo succeeds Antonio da Gallo as architect-in-chief at St. Peter's (vol. ii. p. 213).
1552. Invitation of Duke Cosimo de' Medici to return to Florence declined (vol. ii. pp. 289-291).
1556. Excursion to Spoleto (vol. ii. p. 303).
1557. Model for cupola of St. Peter's (vol. ii. p. 232).
1564. Death in Rome, Feb. 17 (vol. ii. p. 320).
---
VI. SOME OF MICHELANGELO'S FAMOUS ITALIAN CONTEMPORARIES.
Rulers.
Florentine Dukes:—
Lorenzo de' Medici, 1469-1492.
Piero de' Medici succeeded Lorenzo 1492, expelled from Florence 1493.
Alessandro de' Medici, made first hereditary duke of Florence 1531, assassinated 1537.
Cosimo de' Medici succeeded Alessandro, 1537-1574.
Popes:—
Sixtus IV., 1471-1484.
Innocent VIII., 1484-1492.
Alexander VI., 1492-1503.
Pius III., 1503-1503.
Julius II., 1503-1513.
Leo X., 1513-1522.
Hadrian VI., 1522-1523.
Clement VII., 1523-1534.
Paul III., 1534-1550.
Marcellus II., 1550-1555.
Paul IV., 1555-1555.
Pius IV., 1555-1559.
Pius V., 1559-1566.
Men of Letters.
Boiardo, 1434-1494, poet (Orlando Innamorato).
Ariosto, 1474-1533, poet (Orlando Furioso).
Aretino (Venetian) 1492-1557, poet.
Francesco Berni, 1496-1535, burlesque poet.
Bandello, 1480-1562, novelliero.
Sannazaro, 1458-1530, poet (Arcadia).
Niccolo Machiavelli, 1469-1527, author of The Prince.
Gucciardini, 1483-1540, historian.
Tasso, 1544-1595, poet (Gerusalemme Liberata).
Group centring about Lorenzo the Magnificent in Florence.
Cristoforo Landino, 1424-1504, tutor of Lorenzo, and professor of Latin Literature.
Bartolommeo Scala, 1430-1497, chancellor of Florence.
Luigi Pulci, 1431-1487, writer of burlesque epic Il Morgante Maggiore, and intimate friend of Lorenzo and Poliziano.
Marsilio Ficino, 1433-1499, president of Academy in 1463, translator of Plato and Plotinus.
Angelo Poliziano, 1454-1494, tutor of Lorenzo's children, and professor of Greek and Latin Literature in University of Florence.
Giovanni Pico della Mirandola, 1463-1494, published 900 theses at Rome in defence of Platonic mysticism.
Group in Rome:—
Pietro Bembo, 1470-1547, made cardinal in 1539, master of Latin style and also writer in Italian.
Jacopo Sadoleto, 1477-1547, made cardinal in 1536, writer of Latin verses, moral treatises, and commentary on Romans.
Egidio Canisio, 1470-1532, made cardinal in 1457, Latin orator and writer on philosophy, history, and theology.
Paolo Giovio, 1483-1552, bishop of Nocera 1528, historian and biographer.
Baldassare Castiglione, 1478-1529, diplomatist and scholar.
Gian Francesco Pico della Mirandola, 1470-1533, author of life of Savonarola.
Jerome Aleander, 1480-1542, made cardinal in 1536, librarian at Vatican.
Marcus Musurus, 1470-1517, lecturer in Gymnasium Caballini Montis.
Joannes Lascaris, 1445-1535, superintendent of Greek press established in Rome by Leo X.
Riario, Giulio de' Medici, Bibbiena, Petrucci, Farnese, Alidosi, Gonzaga, cardinals and patrons of literature.
PAINTERS.
| | | |
| --- | --- | --- |
| Ghirlandajo, | 1449-1495? | Florentine |
| Verrocchio, | 1435-1488 | " |
| Leonardo da Vinci, | 1452-1519 | " |
| Bartolommeo, | 1475-1517 | " |
| Francesco Granacci, | 1477-1543 (friend of Michelangelo) | " |
| Giuliano Bugiardini, | 1475-1554 (friend of Michelangelo) | " |
| Raphael, | 1483-1520 | " |
| Andrea del Sarto, | 1486-1531 | " |
| Sebastiano del Piombo, | 1485-1547 | " |
| Giorgio Vasari, | 1512-1574 | " |
| Giovanni Bellini, | 1428-1516 | Venetian |
| Giorgione, | 1477-1510 | " |
| Titian, | 1477-1576 | " |
| Tintoretto, | 1518-1594 | " |
| Paolo Veronese, | 1528-1588 | " |
| Perugino, | 1446-1523 | Umbrian |
| Bazzi, | 1477-1549 | Sienese |
| Baldassare Peruzzi, | 1481-1536 (also architect) | " |
| Domenico Beccafumi, | 1486-1551 | " |
| Mantegna, | 1431-1506 | Mantuan |
| Francia, | 1450-1518 | Bolognese |
| Correggio, | 1494-1534 | Emilian |
MISCELLANEOUS.
Savonarola, 1452-1498, prior of monastery of S. Marco, Florence, preacher, reformer, martyr.
Marc' Antonio, 1487-1539, engraver.
Bramante, 1444-1514, architect of St. Peter's.
Antonio da San Gallo, 1485-1546, architect of St. Peter's.
Christopher Columbus, 1436 or 1446-1506, discoverer.
Aldo Manuzio (Teobaldo Mannucci), 1450-1515, printer, established press at Venice 1490.
Vittoria Colonna, 1490-1547, poet.